SDMT Leadership Series – Meet Ron Christopher Jones!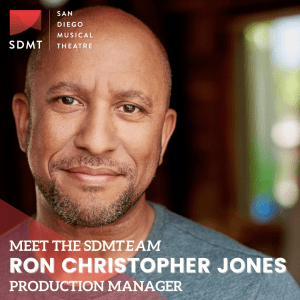 Meet the #SDMTEAM! Welcome to SDMT's Leadership Spotlight, where you get to know the team that makes our shows happen! ❤️ ⠀⠀⠀⠀⠀⠀⠀
Today, we're introducing RON CHRISTOPHER JONES, SDMT's Production Manager the other half of the #baldandbeautiful crew!
Ron has been a professional actor of stage and screen for over 25 years. He has been a fan of our work since the beginning, but didn't join the SDMT fam until our 2018 production of The Full Monty. He then began helping out on productions, and even became the interim director of Miracle on 34th Street, before becoming our Production Manager during Crazy For You! ⠀⠀⠀⠀⠀
Click here or on the picture to see our interview and get to better know Ron and how he helps bring the magic on stage!