SDMT Board Member Spotlight – Meet Delnora Janecek!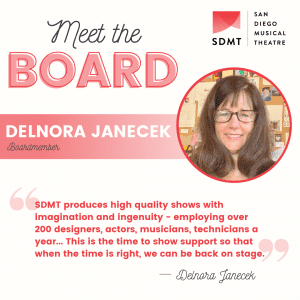 Meet SDMT Board Member – Delnora Janecek – who was first introduced to SDMT with our 2008 production of Bye Bye Birdie, and joined our board to help contribute in 2010. A little know secret – Delnora served as props master on several of our past productions!
How did you become acquainted with SDMT?
I was initially invited by my friend Cinda Lucas to go see Bye Bye Birdie.
Why did you want to become a member of the board?
I was very impressed with the production quality of SDMT shows. I have been a board member and have helped run a youth theatre company, Center Stage Productions, in North San Diego County since 2004. Our focus is giving children a professional level theatre experience including always having a live orchestra. I appreciated that SDMT also was committed to producing high quality productions and always with a live orchestra.
When did you join the SDMT board?
I became a board member in 2010. Fun Fact: I was the prop master for a few shows.
What has been your favorite SDMT production?
That is a really difficult question to answer! I have really loved so many productions – The Producers, Chicago, White Christmas, Young Frankenstein, CATS, Annie Get Your Gun, 42nd Street, 9 to 5, Damn Yankees, Miracle on 34th Street. If I had to pick one, I think White Christmas!
Why should friends, co-workers, family members, community members, etc. contribute to your SDMT fundraising campaign?
SDMT produces high quality shows with imagination and ingenuity – employing over 200 designers, actors, musicians, technicians a year – always with a live orchestra. We are the only year-round musical theatre company in San Diego. 2020 has been a lousy year for the theatre community and we don't want any theatre organization to fail. This is the time to show support so that when the time is right, we can be back on stage.
Thank you Delnora!
We are looking for GREAT people like Delnora to join our board! Are you looking for ways to serve the community, have a passion and love of the performing arts, are able to motivate others to get involved, to participate and contribute? We'd LOVE to talk to you and see how your super powers can help SDMT's mission to passionately produce, preserve and promote musical theatre that ignites the human spirt!
Click here to donate to SDMT's Annual Fundraiser!