#BehindTheCurtain: Get to Know Matthew Ignacio
Matthew Ignacio is a triple threat! An award-winning music director, singer and actor, he's excited to finally make his debut on the SDMT stage. He's no stranger to singing groups apart from Plaid Tidings! He currently serves as artistic director and chorus leader for the Tremble Clefs, a singing therapy program for people living with Parkinson's. In addition, he serves as music director at St. John of the Cross Church, a founder of The Explorers (San Diego Zoo's a capella group) and the Tinseltone Carolers. There's no shortage of songs to sing for Matthew, and he does it all (and does it fantastically). Get to know Matthew more!
What is your role, and what's his story?
I play Smudge, the Plaid who sings the lowest bass notes! He's a worrywart whose giant vocabulary makes up for his lack of coordination. Underneath his ulcer-causing anxiety though, Smudge does have such a big heart for his fellow Plaids and for the holidays that being in this holiday show becomes his only wish!
What inspired you to get into musical theater?
Ever since I was little I've been in love with the feeling of putting on a show, which was definitely inspired by children's television programming and theme park entertainment. My favorite thing to do is bring harmony (I have a huge choral background) and musical theatre provides an opportunity to bundle that with story-telling and dancing while bringing characters to life.
What was your first introduction to "Plaid Tidings" ?
This production is actually my first introduction to the "life" of a Plaid! I am my prime self when I'm singing harmonies in a quartet (I'm the music director for San Diego's Tinseltone Carolers and one of the founding members of San Diego Zoo's A Cappella group The Explorers) so I just had to jump on the opportunity to do so here at SDMT in such a fun and heartfelt show. It's been an honor working with such an amazing cast and crew and now I can call myself a Plaid for life!
Do you relate to your character?
A nerdy bass singer who wears glasses, lives for the holidays, and can juggle? Smudge and I are a match made in heaven! I'd like to think I'm much more easy-going and coordinated than Smudge but I have already fallen a few times offstage…so there's that.
What's the first thing you would do if you went to heaven?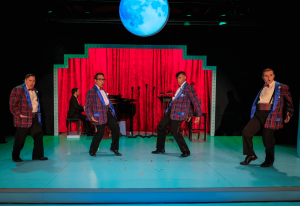 I would reunite with lost loved ones and I'd give them a concert by finding some angels to harmonize with!
Favorite Christmas song and why?
I love The Christmas Song (a.k.a. Chestnuts Roasting). Other than the fact that it has the audacity to be called THE Christmas Song (because it's that good) it's got some fun music theory behind it and such sweet a sense of nostalgia.
Dream role?
Basically any role that has me living my best bass-baritone life is a dream!!
Every single show we do, we love to do series spotlighting our multi-hyphenate performers to let audiences know who they are "behind the curtain."
SDMT presents "Plaid Tidings" running Nov. 25—Dec. 24th
Director: David Humphrey
Music Director: Richard Dueñez Morrison