#BehindtheCurtain: Get to Know Anthony Michael Vacio
We are thrilled to introduce Anthony Michael Vacio, one of the incredible stars in our upcoming production of "Anything Goes"! This is Anthony's debut performance here at SDMT, though he's no stranger to the stage, and he will be portraying the role of Billy Crocker, the hopeless romantic stowaway aboard the SS American. Keep reading below to get to know this amazingly talented individual before you get to see his work in action this weekend on the SDMT Stage!
What inspired you to get into musical theatre?
As a little kid, I was always obsessed with movie musicals; Grease, The Sound of Music, Chicago, etc. Then when I was in 2nd or 3rd grade, I was participating in my elementary school's talent show. My neighbor and I had been working on a rousing rendition of "What I've Been Looking For" from High School Musical. After the talent show, one of the moms from the school came up to me and my mom and asked if I would be interested in auditioning for a youth theatre production of Aladdin Jr. After my first audition, booking the role of Guard #1, and meeting some of my life long best friends, I was hooked. I've been performing ever since!
Does the show "Anything Goes" have any special meaning to you?
You know, I had only seen one production of Anything Goes that I had some friends in when we were all in High School. Honestly, it was fun but I didn't attach myself to it right away. It wasn't until the callbacks for this production that I truly fell in love with the show. I feel like it's just what we need right now. It's fun and silly; but still has a level of sophistication and depth that still makes you smile and laugh but also understand how the story and characters can be reflective of the American experience today. I think it's shows like Anything Goes that makes it really fulfilling to be a Musical Theatre Actor.
If you were on a cruise, who's the one celebrity you'd want to see and talk with on board?
A celebrity I would love to meet on a cruise is Lizzo! I saw her concert at the Viejas Arena in 2019 and it was one of the best experiences of my life! I would want to spend the days talking about self-love and acceptance and how we can work to make the world a better place while we lounge by the pool and at night I'm sure she would be great at breaking me out of my shell to party and celebrate!
Who is your Broadway idol?
There have been a lot of actors that I looked up to growing up like Aaron Tveit, Jeremy Jordan, and Matt Doyle to name a few. As I was coming into my own I would listen and watch their work and it has definitely influenced the actor I am today. Currently, I find myself more inspired by broadways standby's and swings; specifically Julie Benko and Max Clayton. These actors exemplify control and grace as they cover the roles of big name stars in their respective productions and I am truly inspired by their talent, work ethic, and humility.
What is your dream role?
I usually have two answers for this question and the answer is constantly changing; however, in January of 2023, I would say my dream roles would be; Claude in HAIR! and Elder Price in The Book of Mormon on Broadway. These are very different roles but have just what I'm looking for in terms of storytelling, acting, singing, and even some dancing!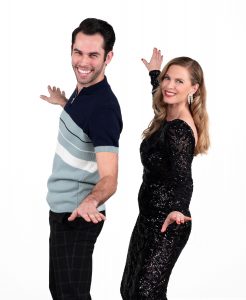 What's your favorite scene in the show?
My favorite scene in this show has to be Act 1 Scene 3. Billy gets to experience the whole range of his emotions and we all get to really understand how high the stakes are for him. On top of that,  the scene has some pretty fun numbers!  From having a blast dancing and singing "You're the Top" with Allison, then to switch it up and get to sing and dance "Easy to Love" with Holly, it's truly a dream!
What's something most people don't know about you?
Something most people don't know about me is that I played Spider-Man at Disneyland for 2 years! It was a wild and exciting time. I definitely have some wild stories of wacky guest experiences but it was always so fulfilling to help a shy kid come out of their comfort zone by being everyone's favorite goofball, web-slinging superhero!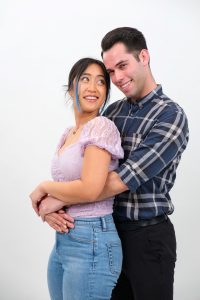 If you weren't an actor, what would you want to be?
If I wasn't an actor I would want to be a Marine Biologist. I have always been so interested and perplexed by the ocean and sea life and if I wasn't performing I can't think of another job as fun as swimming with dolphins or hanging out with turtles!
Director: Omri Schein
Choreographer: Xavier J. Bush
Music Director: Van Angelo
Photos by Julie Licari and Mark Holmes
CLICK HERE to buy tickets!