J.Scott Lapp – An Actor, Singer, Choreographer, Designer and Director.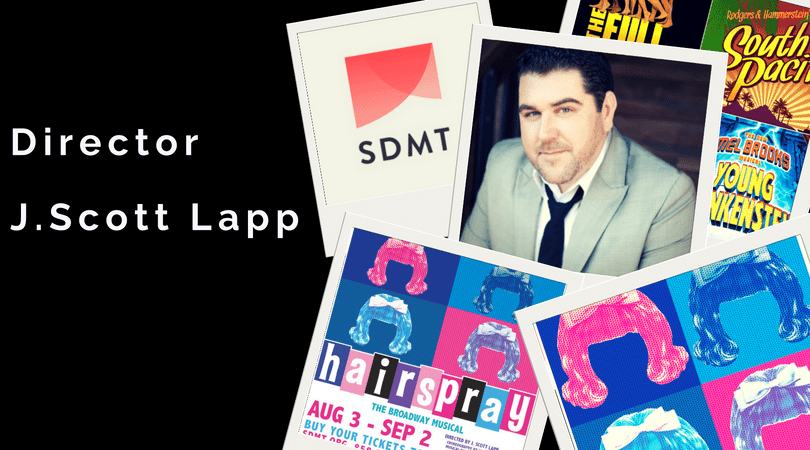 J. Scott Lapp has been working in the theatre business for over 30 years performing in over 100 shows in and around San Diego County. He is an award-winning Director and Choreographer with over 50 productions under his belt, having worked across the United States as well as Internationally. He is an alumnus of the Directors Lab West, a proud member of the SDC and a 2011 SDC Emerging Artist. He is also the Producer of Cabaret at The Merc and Artistic Director of The Barn Stage Company and now he is directing the San Diego Musical Theaters, Hairspray! We sat down to chat about the upcoming production and the exciting projects ahead.
You have been working with SDMT for years, but can you tell us where you were born and educated and how you got involved with musical theatre?
Well, I've been working with SDMT on the Graphic Design and Marketing side for years. I've designed every poster, ad and program for them since the very first production of The Full Monty 11 years ago! But Hairspray is actually just the second show I have directed for the company. Last spring, I directed the San Diego Regional Premiere of First Date at The Horton Grand and I am thrilled to be back again this summer! I am a hometown boy! I was born and raised in San Diego and started off as a performer myself working with companies like Christian Youth Theatre, Lambs Players and Starlight. Went on to do over 150 productions in and around Southern California before turning my attention to directing. I went to school at Platt College here in San Diego and eventually found myself back in the industry when I started missing the stage!
Hairspray is going to be an audience favorite but with multiple adaptations onstage and on screen, what do you hope to bring to the piece?
We have talked at length in rehearsals about how Hairspray is firmly rooted in 1960s America, but it offers both a sophisticated and simplistic way of understanding racism today. On the one hand, the story's feel-good conclusion implies that colorblindness is the silver bullet that ends racial discrimination, that good intentions and individual acts of bravery are enough to bring about harmony. By representing this reality—in bubble-gum, technicolor clarity—Hairspray does something that pure documentation, at times, can't: It makes a difficult part of our nation's history accessible and entertaining. Hairspray encourages its audience to take the fight to integrate a teenage TV show seriously, but it does so through songs, dance, and costumes that celebrate and satirize the '60s. Jill, Don and I figured as long as we were tailor-making a wish-fulfillment with a social message, we'd be most effective if we soft-pedaled the message part and tried to make the proceedings kinetic, funny and a little unexpectedly rude. It is John Waters world after all!
Why is Hairspray relevant to todays audience?
Tracy Turnblad, loveable as she is, is fat, and all of us, lovable as we are, are somehow, metaphorically fat. Skinny, clumsy, new in town, female, foreign, black, Jewish, gay, naive, brainy, too short, too tall, overeager, shy, poor, left-handed, over-freckled or in Musical Theatre – there's always something real or imagined that keeps the individual apart from the tantalizing but narrow-minded "In Crowd". Hairspray is about acceptance and inclusiveness, and everyone can identify with the longing to belong. It's supposed to be "We The People, after all."
Your resume is long and varied, but if you could choose any project to do next. What would it be and why?
I am entering a phase in my career where I am looking to work on pieces that have cultural significance or stories that can transform the human condition. There's a lot of great material out there and many new writers who have voices that need to be heard. Pieces like Fun Home and The Curious Incident of the Dog in the Night are shows that I would love to work on. There is also something very special about getting to work on New Works, which I've had the wonderful opportunity to do in my career. Getting to create something brand new with the writers in the room is a process that I'll never take for granted.