"Crazy For You" Is The Classic Romantic Comedy You've Been Looking For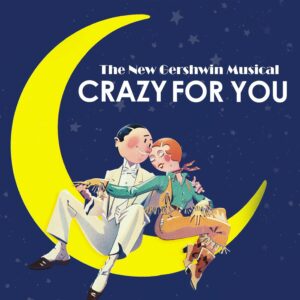 With movies like "Isn't It Romantic" and "What Men Want" out in movie theaters and Valentine's Day right around the corner, it's understandable that you might be feeling a little extra love lately and want to go out for a romantic evening of fun with your partner.
Instead of heading to the movie theater, though, why not check out San Diego Broadway shows? Here at San Diego Musical Theatre, we've worked hard on our latest production of "Crazy For You." We'll perform this musical in San Diego Feb. 1 – March 3; buy your Broadway tickets today so you and your love can spend a romantic evening in the Gaslamp Quarter with us!
Plot
Young New York banker Bobby Child has a love for the theatre, along with the stress and demands that come from being the son of a rich banking family. He's engaged to Irene, a very wealthy woman — and he has been for five years.
Bobby travels to Deadrock, Nevada, to foreclose a rundown theatre that has seen better days. The gold-mining town is just as dead as the name makes it sound. The Gaiety Theater has been warned of the foreclosure, and the owner's daughter, Polly Baker, vows to get even with Bobby Child if she ever meets him — and Bobby falls in love with her at first sight.
After realizing who Polly is, Bobby comes up with a plan to save the theater. Hilarity, adventure, and love ensue in this western town being visited by a city slicker from New York.
History
This Broadway musical is still relatively young, having opened at the Shubert Theatre on Feb. 19, 1992. With lyrics by Ira Gershwin and music by George Gershwin, this romantic comedy musical was also widely known as "The New Gershwin Musical Comedy." It was a smashing success as soon as it hit Broadway theatre, just as it is as a musical in San Diego.
In a review in The New York Times, Frank Rich wrote, "When future historians try to find the exact moment at which Broadway finally rose up to grab the musical back from the British, they just may conclude that the revolution began last night. The shot was fired at the Shubert Theater, where a riotously entertaining show called 'Crazy for You' uncorked the American musical's classic blend of music, laughter, dancing, sentiment and showmanship with a freshness and confidence rarely seen during the 'Cats' decade … 'Crazy for You' scrapes away decades of cabaret and jazz and variety-show interpretations to reclaim the Gershwins' standards, in all their glorious youth, for the dynamism of the stage."
See "Crazy For You" In San Diego Today
Our San Diego Broadway shows are full of fun, energy, and flair — and "Crazy For You" takes the cake for all three! It has been nominated for many awards, and it has won the 1992 Tony Award (Broadway), 1993 Olivier Award (London), and the 1994 Dora Award (Toronto) for best musical.
Whether it's for Valentine's Day or simply for a night out on the town, our San Diego Broadway shows are just what you're looking for. Get Broadway San Diego season tickets or order your Broadway tickets for "Crazy For You" today.