Get to Know Ramiro Garcia Jr., Our Dynamic "Seymour Krelborn"
You might recognize Ramiro as the Piragua guy from our production of "In The Heights" this summer! This time, he takes on a very different type of role as Seymour Krelborn in "Little Shop of Horrors". It's always a wonderful experience to watch SDMT alumni take on different roles and show audiences their range. We were certainly (and not shockingly) impressed with Ramiro's range! In this series, you get to know a few of our actors in depth, and learn about the human behind the performer you see on stage.
What is your role and tell us the significance of it?
My role is Seymour Krelborn, an orphan boy who lives in a flower shop in skid row. He is a young man trying to find a way to get out of living in skid row and making it in life. Eventually he is brought an opportunity to have everything he ever wanted; but, at a cost he'd never imagined. Seymour is significant because it's his journey you are following as an audience member. You are with him every step of the way from the beginning of seeing his struggle of not having anything, to the obstacles and conflicts he must face to have everything he ever wanted!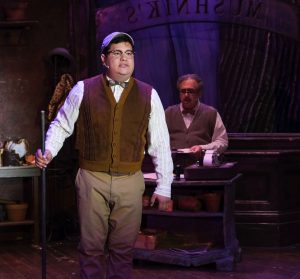 What inspired you to get into musical theater?
What inspired me to get into musical theatre was the appreciation and how rewarding it is to do live theatre! When a show is put together there is A LOT that goes in for it to look the way it looks on stage. I think the fact that audiences come and sit for the entirety of a show and go through that journey with you with appreciation is what inspired and drove me to do Musical Theatre.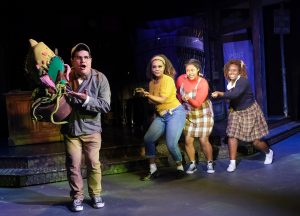 What was your first introduction to "Little Shop of Horrors"?
I had stopped doing musical theatre when I got into high school because I got into the football team. But after a knee injury my senior year, I saw an audition for little shop of horrors in the theatre department. They still had not cast Mr. Mushnik. I auditioned and got the role! I immediately fell in love with the story and music! From that moment on I was locked back into performing. It's safe to say that thanks to this musical, I then went on to pursue this career professionally by getting my BFA in Performing Arts from AMDA and eventually performing Orin and now Seymour!
Do you relate to your character, Seymour Krelborn?
Absolutely. It's actually our similarities that helped me bring him to life in my own unique way: by combining my life experiences and his! 
If you (as Ramiro) were to get 1 million dollars every time you feed Audrey II flesh, would you do it?
Absolutely not! That would be the difference between me, and Seymour I would say. I believe in hard work and persistence to earn what I have. I'd rather go the normal route than the easy one. 
Favorite song in the show?
My favorite number in the Show is "Meek Shall Inherit" Because this is the point where Seymour is given everything he ever wanted and is willing to leave it all to not pay the cost of committing mutilations. But then finds himself conflicted: if he doesn't commit these crimes and continues feeding this plant, he will lose Audrey, the love of his life.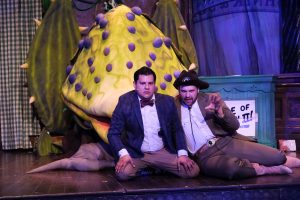 Dream role?
This is a difficult question because I have a list of dream roles! But I'd say The Phantom Of The Opera is at the top of that list!
SDMT Presents "Little Shop of Horrors" | Now – October 30th, 2022
Director: Kandace Crystal
A.D. & Choreographer: Luke H. Jacobs
Music Director: Richard Dueñez Morrison
Click HERE to purchase tickets!