Get to Know Mr. Mushnik Outside of the Flower Shop!
Eliott Goretsky plays the stingy and grouchy flower shop owner on Skid Row who surprises the audience often with a semblance of a conscience, shown throughout Act II. Though the character often seems one-note, there's layers to Mr. Mushnik that Kandace Crystal excavated throughout the production process, and Eliott Goretsky does a tremendous job of portraying.
Fun fact: Eliott is a licensed mental health professional, and has been for the past 18 years. He's worked with individuals and couples seeking therapy and told us that there are "many similarities between being a Therapist and being an actor…but that's a whole other discussion!" Get to know Eliott in our #BehindtheCurtain series where we learn about specific actor's in our production.
What is your current role, and what's the significance?
I have to chuckle a little bit because I've been playing elderly/aging Ashkenazi men since the time I was a college undergrad in my 20s! This has really been a dream role for me, and what was great about working with (dir) Kandace Crystal was we were able to discover some additional vulnerability and ambivalence with Mushnik which I didn't really pick up on before in the script. He's definitely in a tough spot economically and highly reactive at times, but I also believe his relationship with Seymour is multi-layered and conflicted. Those layers can be fun to play with during performances.
What inspired you to get into musical theater?
I was introduced to musicals through my father, via film; then as I got older, I was blessed to have parents who wanted to go see shows when they came in on tours in the Bay Area, so I grew up on many musicals which toured nationally in the 70s and 80s. There was always a little part of me saying, "I want to do that!" so I guess that's where it really started. I also have some show-business roots with my family back east. My cousin was a Broadway percussionist and his wife started out in musicals and eventually was part of the associate chorus of the NY City Opera. My very first role was "Dodger" in a childrens-theater production of "Oliver!" and I was immediately hooked.
What was your first introduction to "Little Shop of Horrors"?
I remember hearing about the show as a teen but never saw it when it initially started to be produced. My first introduction officially was the 1986 Frank Oz-directed film, which I thought was brilliant and has gotten better with age. The effects with the plant were cutting edge at the time, and I think the "Skid Row" number is some of the best ensemble work captured in a musical on film. I recently watched the original 1960 Roger Corman non-musical version, which is at times hilarious, schlocky, quirky, and just truly bizarre. I wish there were more elements of it in our present version, but those would probably distract from the main plot and intent of the show. It certainly helped me in finding some underlying back-story elements.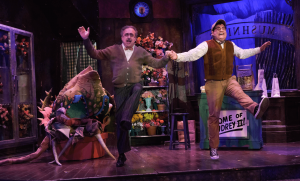 What's the best part about being Mr. Mushnik?
That's a good question and it's hard to answer. Many things! I love preparing for the show/altering my appearance and being able to be part of this amazing, talented ensemble of story-tellers and performers. The creative team has been amazing and very supportive. I also love that so many peers from my other work-life have come out to support the show; they've never seen me perform in a show, so it's exciting to not only do it six times a week for the audience, but knowing these folks are out there on certain nights, in addition to family and friends. It's also a role where I find I really have to "bring it" every time I go out there. The stakes are very high for all the characters in the show, and for me that requires a lot of centering and focus offstage as well as onstage.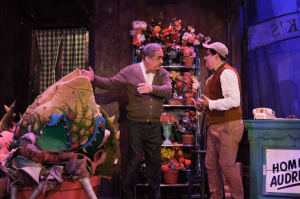 If you were to get 1 million dollars every time you feed Audrey II flesh, would you do it?
I think that's a question we're all left to think about with this show. It's a little morality-play-Greek-tragedy disguised in a musical-comedy. Are there CERTAIN individuals on this planet who I think would make great plant food? Absolutely. But as we see in the show, such choices come with an enormous cost and potentially dire consequences. So, no — I wouldn't do it….not right now. It's an invitation for bad karma.
What is your favorite song in the show?
I love "Skid Row" when we're all out there bringing the audience into the world of the show. I'm loving my number "Mushnik and Son" more and more, and I think it's because Ramiro Garcia (Seymour) is so present that it forces me to just relax and enjoy my time out there with him. I was somewhat initially intimidated by the song and being able to get through it. Richard and Luke really gave me confidence to find the voice and movement… and go for it!
Dream role?
Right now: "Tevye" in Fiddler on the Roof or "Chauncey Miles" in The Nance. Either would be a challenge and a gift!
SDMT Presents "Little Shop of Horrors" | Now – October 30th, 2022
Director: Kandace Crystal
A.D. & Choreographer: Luke H. Jacobs
Music Director: Richard Dueñez Morrison
Click HERE to purchase tickets!